Summary: If you produce legal information for the public in British Columbia, learn how you can self-assess your information against the public legal information best practices. Doing so can help you strengthen your information and learn if you qualify to use the Quality Mark™ on it. We walk through completing the self-assessment on a page from the Dial-A-Law website.
This information applies to British Columbia, Canada
Recorded on: June 16, 2020
Highlights
In this webinar, you will learn:
How the online self-assessment will prompt you to answer eight questions, one for each of the high-impact best practices, to assess whether your information follows each practice. [2:30]
How following the first four best practices is mandatory for information to qualify for the Quality Mark™. [3:05]
How the self-assessment sets out a list of indicators for each best practice that you use to assess whether your material follows a best practice. [3:15]
How questions 5 to 8 on the self-assessment include a 'Getting there' option worth 1 point, in addition to a 'Yes' option worth 2 points. [10:10]
How the overall scoring works on the self-assessment, and what you need to score (12/16) to qualify to use the Quality Mark™. [12:10]
Suggestions about how to assess whether you've made the information understandable for the intended audience (best practice #6) — including measuring readability using measures like the Flesch-Kincaid Grade Level. [12:45]
Suggestions about how to assess whether you've made the design clean, engaging, and easy to use (best practice #7) — including putting important information first (and not "burying the lede"). [15:15]
How using the best practices and indicators will improve your information and increase its impact — even if you can't apply all the best practices. [17:15]
How you will be provided with a link to downloadable files of the Quality Mark™ upon completing the self-assessment and achieving a minimum score of 12 points. [20:00]
How, to use the Quality Mark, you must commit to applying the best practices to the best of your ability. [20:05]
What types of information the Quality Mark applies to. [22:50]
How to assess content that is not clearly public legal information. [23:25]
Who to contact if you have concerns over misuse of the Quality Mark (info@peopleslawschool.ca). [26:55]
How the self-assessment process was designed to empower producers of public legal information to take ownership over using the best practices to the best of their ability. [27:55]
Attendee feedback
"I think having the Quality Mark as an identifier for our users will be most helpful."
"Provides a checklist of important information to include (e.g. who made it, where does the legal info apply, when was it last reviewed for legal accuracy, etc.)"
"It is useful to have these indicators all in one place, to review that all have been covered as much as possible. I've used them all, but not necessarily all of them all of the time."
Additional resources
Related webinar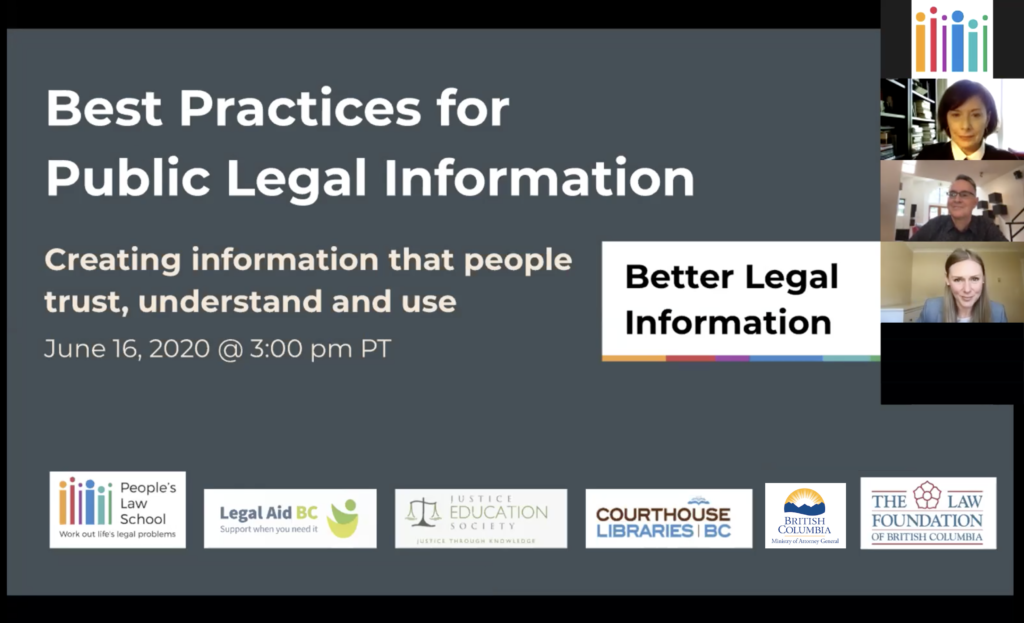 Our webinar on the best practices explains how they help you make information your audience trusts, understands and uses.